I love spring. Everything is green and bursting with floral decadence.
Sometimes, when I'm in my yard admiring what few flowers I am blessed with and thanking the Lord for a reprieve from the cold misery of the last six months, and I look around in just such a way, at just such an angle...
...I can almost imagine that my gardens might look more like a beautiful, manicured court-yard garden...
Just like that, I am strolling through in glorious sunshine, admiring the fresh spring blooms.
Then I catch myself and run back inside to don a lovely, ephemeral and high-waisted number like this: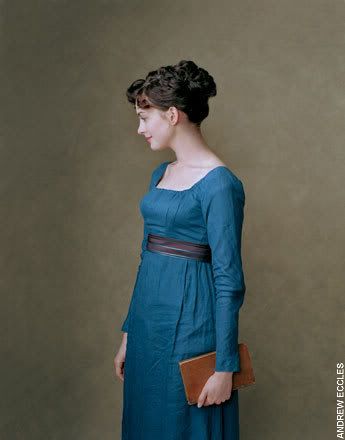 Thus properly attired, I return to my reverie.
As I stoop to inhale the perfume of some heavily scented lilacs...
...I happen to glance from the corner of my eye and see a person in the distance.
My heart catches in my throat...
Can it be? Is it really him?
Why... yes...
I quickly smooth my dress and pull my shawl a little closer over my shoulders.
I take a few breaths in a futile attempt to calm my pounding heart...
He approaches as I adjust my bonnet.
It
is
him. My own dear Mr.
Darcy
Nathan.
He greets me politely, "How do you do..."
No, wait. Scratch that. As this is a revisionist fantasy and I've always preferred Colonel Brandon...
There. That's better.
Now, where were we? Oh, yes...
He greets me with a polite bow and I answer with a modest curtsy. We speak of pleasantries, somewhat tensely as we maintain our sense of propriety, and stroll off to tour the gardens together, dreaming of our future...